Obituary for Jared and Jacob Smith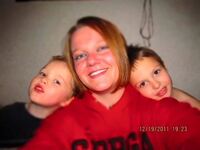 Jared Will Smith,8, and Jacob Jerry Dean Smith, 9, of Suwanee passed away Wednesday July 22, 2015.
Jared, born July 16, 2007 and Jacob, born June 21, 2006 were residents of Forsyth County their entire lives. Being very close brothers, they loved horses, spending time at the lake, and all of the farm animals at their grandparent's home. Students at Johns Creek Elementary School, they both had many friends and family whom they loved dearly but most of all their mom and dad. They are accompanied in death by their mother, Rebecca Jo "Beckie" Manning, and were preceded in death by their grandmother, Joyce Manning.
Surviving are their father, Robbie S. Smith, Dawsonville; maternal grandfather, Jerry D. Manning, Suwanee; paternal grandparents, Gary and Laura Smith, Dawsonville; step grandmother; great grandmothers, Rosie Gearin, Cumming, Elsie Frazier, Dawsonville; uncles, Michael Manning, GA, James Pendley, AL, James Lyle, GA, Anthony Smith, GA, Christopher Wells, GA; aunts, Sheere Smith-Brown, AL, Veronica Scroggins, GA, Stephanie R. formerly of GA, Maggie Smith-Burt, GA; step sister, Ciara Cole; many other relatives and friends.
Memorial services will be held Sunday August 2, 2015 at 2 o'clock at Bearden Funeral Home Chapel. Dr. Don Allen will officiate.
The family will receive friends Sunday at the funeral home from 12 noon until the service hour.
In lieu of flowers the family requests donations be made to help offset final expenses.
Condolences may be expressed at www.beardenfuneralhome.com.
Bearden Funeral Home, Dawsonville, GA.